A Railroad comes to Harwood!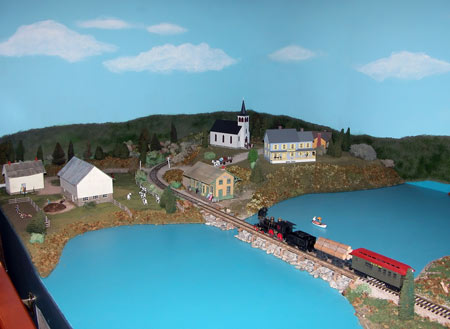 In the early 1850's, entrepreneurs from Cobourg planned and built a railroad from Cobourg to Peterborough which crossed Rice Lake at Harwood. What a venture and what a feat! A unique wooden bridge was erected to span the three mile width of Rice Lake.
After the first year, due to ice damage, a section of the bridge was replaced with a causeway to Tic Island. A model of the causeway and bridge, with a locomotive and rail cars of the era traveling across Rice Lake, is on display in the Gallery. The interesting model is a must to see! (photo at right).
The railroad was in operation for only a few years but remains of the causeway are still visible to-day. In recent times, oak timbers from the bridge have appeared on the shore.
More on the History here.