Harwood museum celebrates 10 years
Northumberland Today
By CECILIA NASMITH
July 8, 2009
HARWOOD -- Though Pauline Browes was Scarborough Centre MP from 1984 to 1993, serving in cabinet her last three years, she has always kept one foot in Harwood where she grew up.
On June 21, she celebrated the 10th anniversary of one of her special projects, the Spirit of Canada Gallery museum that she established on the grounds of Drope Century Farm.
Some 100 people helped her celebrate. Burke Van Valkenburg portrayed Sir John A. Macdonald, arriving in a grand carriage pulled by one of Randy Bird's fine white horses. Greeted by Browes and Northumberland MP Rick Norlock as he got out, he kissed all the ladies' hands and pledged to return at such time as the original Harwood railway station is re-erected in the village.
Greeted by Browes and Northumberland MP Rick Norlock as he got out, he kissed all the ladies' hands and pledged to return at such time as the original Harwood railway station is re-erected in the village. Prime Minister Stephen Harper sent a letter of congratulations. "Drawing from her extensive career experience and her love of Canadian politics, Mrs. Browes brings our fascinating political history to life," it said.
Afterwards, to live music her grandchildren (20-year-old Jessica Bugden and 26-year-old Jeremy Browes) served more than 100 martinis, including the teetotaller Diefenbaker Martini. The Sir John A. Macdonald apple martinis and the Sir Wilfrid Laurier watermelon martinis were especially popular, Browes said.
The museum is set in the oldest building on the farm, formerly a residence for chickens and pigs that is more than 100 years old. With a power washing and a new floor, it makes a charming museum, complete with exposed wooden beams and board-and-batten siding.
More pictures are available
below
. Ever eager to educate -- the back of her business card has a list of all Canada's prime ministers and their terms of office -- Browes has added an interactive
10-question quiz
on the prime ministers to the site. Most people get about seven questions right, she said.
"One of the most difficult questions is, what prime minister went on a visit to Queen Victoria and was having lunch, when he had a heart attack and fell in his soup and died? He was the first justice minister, and he wrote most of the Criminal Code as we know it today," she added helpfully.
Browes has as many items stored away as she does on display, giving her scope to rotate her displays every so often. She seems to have a story for every item, such as the photo of herself in session with MP Jim Hawkes, then Stephen Harper's boss. Harper took Hawkes's seat in 1993, running as a Reform candidate. Peace has been made, however, and Hawkes and his wife have been for dinner at 24 Sussex.
She picked up the first picture in her collection while shopping for antiques with her mother Clara at Premier Leslie Frost's auction sale in Lindsay. It's a picture of Sir Robert Borden, and they were drawn by its handsome burled-oak frame. Next to it is another picture, this one signed, but in a more conventional frame.
There are prominent portraits of her parents, of course. Her father Major R. Earle Drope was elected Northumberland MP in 1945, a Conservative under Liberal McKenzie King. A veteran of the First World War, he'd been active in local council and was also manager of the Harwood Cooperative Creamery.
This is the 50th anniversary of the St. Lawrence Seaway, in recognition of which she has trotted out some Diefenbaker items. The 1957 photo of his cabinet, with Queen Elizabeth II at the head of the table is an example. The only other woman there is cabinet minister Ellen Fairclough, who recently died in Hamilton at 101.
She treasures the copy of Diefenbaker's will with bequests of $500 to the Prince Albert branch of the Royal Canadian legion, $1,500 to his executive assistant, $1,000 to the First Baptist Church in Ottawa and $1,000 to his "excellent housekeeper."
She has a maquette of the statue of Diefenbaker that stands on Parliament Hill in such a way that its eyes are trained on the prime minister's office. Sculpted by Leo Mol, it was the first statue cast in Canada.
An area with provincial memorabilia has a full-page Toronto Star ad from June 7, 1943, that a friend found under the linoleum at a Rose-neath-area cottage she bought. Urging people to vote Liberal, it features all the Liberal candidates' photos surround that of the leader, Farquhar Oliver. That's the election George Drew won, she said.
There are several of those special photos which display the prime minister, his cabinet ministers and all members of parliament. Browes can pick her own photo out of the 33rd and 34th Parliaments.
The working model of the Cobourg-Peterborough Railway bridge over Rice Lake was built eight years ago by Lawrence MacDonald, who was present for the anniversary. The scene shows the old Lakeview Hotel and the Harwood railway station, with tiny figures telling their own stories (like the little guy running to catch the train and the milk wagon ready to load up fresh milk for the people of Cobourg).
Hanging on its display cabinet is an 1854 Cobourg-Peterborough Railway bond for 100 pounds sterling. It is specially framed to display the back as well, where only four coupons have been clipped because of the hand-written notes on the company's bankruptcy.
"People say, 'Why are you doing this?'" Browes admitted. On this milestone occasion, she wishes to make her reasons clear.
"One, I am concerned about the lack of voting participation, and it's dropping in each of these national elections. It's in the low 60s and, in the riding I was working in Toronto, it was 50%. It's important that we talk about government in order to encourage people to have public participation.
"Second, I recently heard from a professor, when I was speaking at Ryerson University, that the highest rate of failure for any high-school subject is civics. It is incumbent upon all of us to talk about the importance of government," she declared.
"I think of what's happening in Iran, where people are saying, 'We want our vote to count.' In this country, people are sitting back and saying, 'Oh, well, I don't think I'll bother.'
"By talking about some of our political leaders and their accomplishments, hopefully it will be some inspiration. Canadian politics is exceedingly exciting."
Admission is free, though donations toward its costs are welcome. It is open by chance and appointment -- you can reach Browes at 905-342-5416 or browes@rogers.com.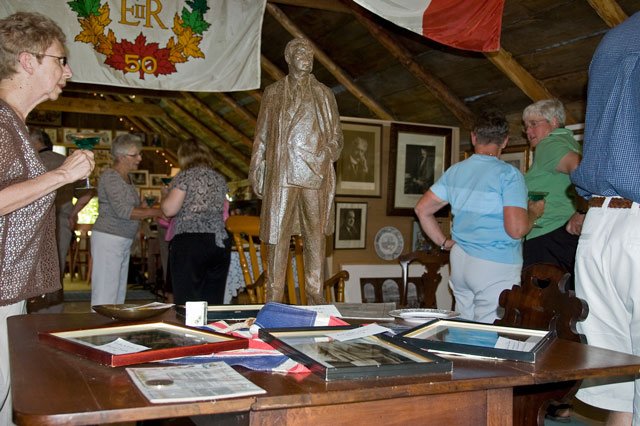 Some of the Gallery items