The Curator
Pauline Browes and the Spirit of Canada Gallery - by Mark Masters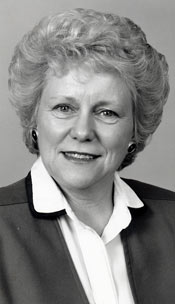 The Liberal critic for Public Works informed Pauline Browes his party could not support her private members' bill the day before the vote.
It should have signaled defeat for the rookie MP in her quest to get a statue of former Prime Minister John Diefenbaker placed on Parliament Hill.
Diefenbaker had been a personal friend of Browes' father and an inspiration in her political life.
The next day Browes got another tap on her shoulder. It was the Liberal critic informing her that his leader, the Right Honourable John Turner, a friend of Diefenbaker's during his days in the House, wanted to support the legislation.
It passed unanimously.
Prime Minister Brian Mulroney asked Browes to chair a committee tasked with commissioning the statue and two years later the tribute to Canada's 13th Prime Minister was unveiled.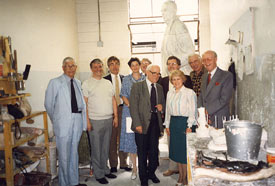 A miniature replica of the statue now sits as one of the prized pieces in the Spirit of Canada Art Gallery.
Set amongst the rolling green hills and serene Rice Lake in the small hamlet of Harwood near Cobourg, Ontario is the Drope Century Farm.
Named for Browes' father, who served as a Tory MP from 1945 to 1949, the farm is home to Canada's first political art gallery.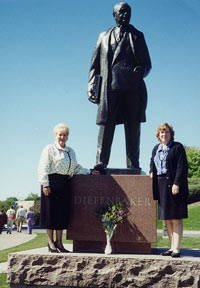 Browes is the curator of the gallery, which opened in 1999 and sees hundreds of people, mostly groups of students and political aficionados, visit each year.
The three-time cabinet minister's inspiration for compiling such a collection is what she calls a strong sense of patriotism and family tradition.
In 1969 Browes' father, Major R.E. Drope, passed away and Browes' mother missed people coming around the farm. Her daughters would often drop by to visit and take trips together. On one excursion in 1970 Browes and her mother ended up at an auction sale in Lindsay, Ontario.
It was there that a framed portrait of former Prime Minister Robert Borden caught the eye of Browes.
"It was too nice for an antique shop and too nice to sell," she remembers. Browes has been collecting political artifacts ever since.
In 1993 the Conservatives were swept from power and Browes packed up all her political memorabilia and headed home to regroup.
It may have been an overwhelming defeat for her party, but Browes' passion for politics would not remain dormant.
"In the winter of 1999, I was saying to myself I'd like to see those [political] pictures again and share them with people and tell the political story of Canada."
The idea for the gallery was born.
Browes had a century-old building at the farm renovated and her collection taken out of storage and placed in its new "rustic" confines.
From the moment you enter the gallery the sense of civic pride that inspired its creation is evident. The flags of Ontario and Canada are front and centre along with a classic political poster featuring the nation's first Prime Minister, Sir John A. MacDonald.
The Oath of Citizenship sits on a desk at the front of the gallery.
Browes, a former civics teacher, says she is inspired to help people learn about Canada's political history because the current level of knowledge is so low.
"You go to antique shops, you go into these shops and ask for pictures of Canadian politicians and they offer up George Washington," says the York University alumna.
"We need to do more stuff about our Canadian history." It's a message that has resonated with former parliamentarians and current ones alike.
Browes lists Health Minister Tony Clement, Prince Edward Island Premier Pat Binns, former Tory MP Reginald Stackhouse and Douglas Rowland, the chair of the Canadian Association of Former Parliamentarians as some of the high-profile contributors to the gallery.
Drinking juice on the porch of the home she shares with her two sisters, which sits just meters from the gallery's doors, Browes reminisces about her latest foray into politics. She ran for the Conservatives in the riding of Scarborough-Guildwood during the 2006 campaign, falling short in a political comeback.
"You have to really want it," says Browes. "But, I think I've got it all out of my system now."
And if Browes does feel the itch coming back she need only stroll over to the gallery and soak in the political history of which she spent a career building both in Ottawa and Harwood.
Pauline Browes represented Scarborough Centre as a Progressive Conservative caucus member from 1984 to 1993.